'Hindu Panchang' App is a quick solution to know about the fasts and festivals of Hindu religion, holidays in India, Panchang and different muhurats. Hindu Panchang is a compact tool to know about Rashifal 2019, day and night Hora, Choghadiya. Do Ghati Muhurat, Gulik kaal, Rahu kaal, as well as Horoscope predictions, rashifal or bhavishyafal. Checking or evaluating horoscope is a common practice in our country and must be done only by the expert astrologers for credibility. AstroSage, the #1 astrology portal, brings to you an offline app 'Hindu Panchang' which is reliable, quick, user-friendly and accurate.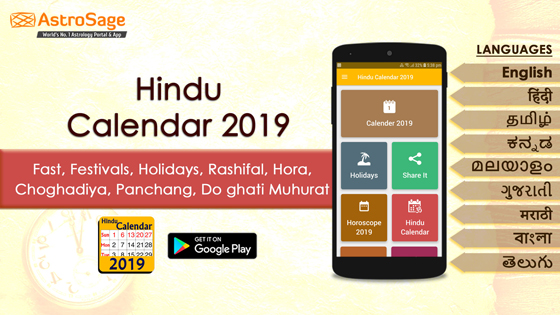 Hindu Panchang App is available in 9 regional languages:
Salient features of the App:
Comprehensive Hindu Panchang for 2019
HD quality images with additional feature of printability
Accurate details for Choghadiya, Hora, Do ghati Muhurat, Kalnirnay, Rahu kaal, etc.
Rashifal 2019 for every moon sign
Reliability as per AstroSage
Accurate dates of fast and festivals
Panchang's minutest detail - rasi, paksha, maas, nakshatra, yoga, samvat, and karan
Seperate listing for Indian Holidays 2019, Bank Holidays 2019, national as well as state holidays 2019
Freedom to choose from nine languages - Hindi, English, Bengali, Telugu, Malayalam, Gujarati, Tamil, Marathi, and Kannada
Operate even when offline
Notifications for important tithis like Amavasya and Poornima.
Elements of Hindu Panchang
'Hindu Panchang' App gives you all the information related to the festivals and muhurats prevalent since centuries. Vedic Astrology is the base for many scientific researches. The calculation of auspicious time for performing rituals and remedies for better future has been a part of Indian culture. Panchang has five elements, namely Nakshatra, Tithi, Vaar, Karana and Yoga. All these elements are the basis of predictions made. In the app, when you tap on any festival or day, you get to know about details like the timing of sunrise, moonrise, sunset, and moonset; about the era, paksha, kala, tarabalam, chandrabalam, hora, muhurats, lagna, choghadiya, etc. With this app, you also get Horoscope 2019 predictions on daily, weekly, monthly as well as yearly basis. Notifications for events or tasks are also promptly received on this app.
Hindu Panchang in Multiple Languages
Normally, we talk about two types of Kundlis within India - northern style and the southern style. But when it comes to Panchang, it is called by different names as well as developed in different languages. In Punjab, the regional calendar followed is Nanakshahi calendar. Bengali panchang is called Panjika. In Telugu, Malayalam or Tamil culture, it is termed as Panchangam. While in hindi, English, and Marathi, the term remains Panchang. Kannada people call it Panchanga while Gujrati's write it in similar fashion as Marathis. There are several patrikas popular in each language.
In Hindu Panchang, you get it all! We have brought to you the one-stop solution which consists of all the languages for your comfort. Get the regional panchang without having to search for a new app every time. Hindu Panchang 2019 is an app with nine languages that keeps your mother tongue and culture close to you.
2019 Hindu Marriage Muhurat, Dates, Tithi
Get auspicious marriage muhurat and dates as per your moon sign and carry out the festivities and merriment. Hindu Panchang app gives you a quick overview of marriage tithis, shubh muhurat as per planetary positions along with an evaluated prediction of how it follows for the soon-to-be married couple. Download the Hindu Panchang app and experience the best.
Download Now