By
VGR Pavan
Pune Warriors India vs Mumbai Indians (11th May) IPL 2013 Match Prediction
As an ardent lover of astrology I will try to offer my match predictions through horary astrology. Here I would like to disclose that these are only astrological inferences and cannot be taken as granted. Hence readers discretion is important about these predictions.
Pune Warriors India
Representing the beautiful city of Pune, Pune Warriors India was introduced to the IPL in the year 2011. So far it has played 2 season of the IPL. It began on a low note in the year 2011 when it finished 9th out of the 10 teams. However, in the next year the team improved its performance and stood 4th in the race. Therefore, it can be expected from the team that it will deliver an outstanding performance in the IPL 2013. The uniform of the team is a combination of turquoise, blue and silver. Subrata Roy is the owner of the team.
Captain: Angelo Mathews
Owner: Subrata Roy - Sahara India Pariwar
Coach: Pravin Amre
Mumbai Indians
Representing the city of Mumbai, the Mumbai Indians have a lot of expectations from the people of Mumbai. All the fans are looking forward to their performance in the IPL 2013. Well we can just say that whosoever wins, all the fans want is a highly entertaining season of cricket. The fans of Mumbai Indians want them to bring the trophy home at all costs. The owner of the team is the famous businessman Anil Ambani. The team did not get very good start in the first two seasons of the IPL and delivered a dismal performance. However, it did recover really fast as began to improve in IPL 2010. Due to their hard work they went on to become the champions in the IPL 2011. Currently, the captain of the team is Ricky Ponting.
Captain: Ricky Ponting
Owner: IndiaWin Sports Pvt. Ltd.
Coach: John Geoffrey Wright
Prediction of PWI vs MI Match
Sub lords of 6 and 11 houses are important and they should be strongly connected with 1, 6, 10 and 11 houses. The star and subs transited by Moon during the match are also important.
This match is between PWI and MI on 11/05/2013 at 4 PM Pune.
The following is the horary map for KP no 183 in favor of PWI.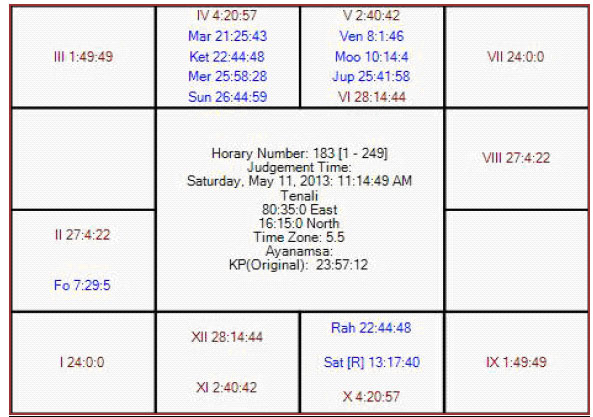 Here 6th sub lord is Saturn; he is in 10th house in Rahu star and Mercury sub. Rahu is in 10th house and Mercury is in 4th house in Venus star. Therefore Saturn is strongly connected with 5th house at sub level hence will offer negative results for PWI.
Moon at the time of Match is in Moon star. She is in own star and sub. It seems to me that stars are in favor of MI but there may be tough battle. Let us see what will happen. GOOD LUCK TO ALL.
Note: All trademarks mentioned belong to their owners, third party brands, product names, trade names, corporate names and company names mentioned may be trademarks of their respective owners or registered trademarks of other companies and are used for purposes of explanation and to the owner's benefit, without implying a violation of copyright law.
Predictions given here are just of academic and research purpose and not intended for any other use.