Raksha Bandhan holds an important significance for Hindus. According to our Hindu Calendar, it is celebrated on the Purnima, the full moon day, in the month of Shravan. As per the Gregorian Calendar, it will be observed on 7th August in 2017. The term 'Raksha' means 'protection' and 'Bandhan' means 'bond'. This festival is meant to be the bond of protection. If you want to know more, stay connected to this exclusive article...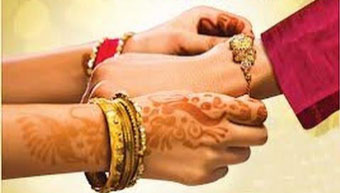 Raksha Bandhan is a festival which symbolises an eternal bond of love, trust and togetherness between a brother and a sister. 'Raksha Bandhan' or 'Rakhi' is a special occasion which depicts the emotional bond between a brother and his sister when she ties a holy thread around her brother's wrist.
Rakhi is a sacred thread signifying an eternal bond of love between a brother and his sister is being celebrated since ages.
But, do we all know the real meaning of Raksha Bandhan? This Rakshabandhan, know the real meaning with AstroCAMP, so that the celebration of Rakhi becomes double for everyone. Let's find out the meaning of the word Raksha Bandhan and what is a Rakhi?
Meaning Of Raksha Bandhan
The meaning of Raksha Bandhan is: "Raksha" meaning 'protection' or 'security', and "Bandhan" means a 'bond'. Thus, Raksha Bandhan signifies the bond of security and protection between a brother and a sister. On Rakshabandhan, the brothers promise their sisters that they will protect them from all the troubles and in return, sisters pray for the protection of their brothers from all evils.
Before you go ahead and celebrate Raksha Bandhan, let's try knowing the real significance behind the celebration of Raksha Bandhan. This will help you in celebrating Rakshabandhan with the real feelings and meaning of this special day.
Significance Of Raksha Bandhan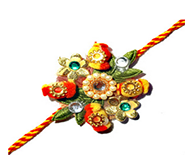 The main significance of Rakshabandhan is "protection". It is believed that Rakhi (a blessed thread of cotton or silk) holds the power to protect. The Rakhi or thread holds a promise that a brother will always protect his sister against all odds. Raksha Bandhan signifies the unconditional bond of love, faith, respect and trust of a brother and his sister.
Behind,the occasion of Raksha Bandhan lies a lot of stories. Let's have a look on them so that when you celebrate Raksha Bandhan with your loved ones, you know the real story behind the celebration of Rakhi.
The Stories Behind Raksha Bandhan
Since the ancient times, the scriptures and epics have depicted various stories attached to celebrating Rakhi or Raksha Bandhan.
Let us first tell you a mythological story of Devi Sachi & the real story behind.
Mythological Story: Devi Sachi (Indrani)
As per the mythological story, once a fight took place between Gods and demons. Demons overpowered the Gods. Indrani or Devi Sachi (Wife of Lord Indra) wanted her husband to win, hence she approached Guru Brihaspati (Lord Jupiter) . Guru Brihaspati gave Indrani a holy cotton thread and asked her to tie it on her husband's wrist. She then tied the thread with her wishes and prayers. It is believed, that the holy thread gave Lord Indra the power to win over the evils. Since then, the tradition to tie the holy thread started. This day was Shravan Purnima (Full Moon ). So, we still celebrate Rakshabandhan by tieing the holy thread on this day.
Another story attached to the celebration of Raksha Bandhan is from one of the greatest epic of all times Mahabharata. Let's see the meaning of Rakhi in Mahabharat.
The Story: Mahabharat
In the Indian epic Mahabharata, Draupadi considered Shri Krishna her brother and tied a Rakhi to Lord Krishna. In the same epic, Kunti (Pandavas' Mother) tied Rakhi to her grandson Abhimanyu, before the great war between Kauravas and Pandavas took place.
Another important legend associated with the celebration of Rakshabandhan is Lord Ganesha and his two sons Shubh & Labha. Let's find out the story on Raksha Bandhan.
The Story: Santoshi Maa
On the day of Raksha Bandhan, Lord Ganesh's sister Manasa visited him to tie him Rakhi, by seeing this, Ganesha's sons, Shubh and Labha insists on having a sister. This persuasion of them to Lord Ganesha resulted in the creation of Goddess Santoshi. It is believed that Goddess Santoshi was created from the divine flames of Lord Ganesha's wives Riddhi and Siddhi. Since then, this festival of Raksha Bandhan is celebrated.
Another story is associated to Rakshabandhan is of Yama (the Lord of Death) and Yamuna.
The story: Yama & Yamuna
It is believed that every year Yama visits Yamuna on the day of Rakshabandhan. The story says that after 12 long years when Yama visited Yamuna, she tied Rakhi to Yama. Lord Of death, Yama granted immortality to Yamuna and since then, Rakhi symbolises the sign of protection. Hence, it is believed that brothers who tie Rakhi and offer protection would also turn immortal.
Another legend holds an important association to the festival of Rakhi & that is Goddess Laxmi and Bali.
The story: Goddess Laxmi & Bali
As per the Hindu scriptures, Lord Vishnu had promised to demon King Bali that he will be his doorman and he will be protecting his devotee. During this time, back in Vaikunth, Goddess Lakshmi (wife of Lord Vishnu) wanted Lord Vishnu to return back. Goddess Laxmi approaches Bali for shelter, as her husband was away. King Bali generously offered help. Goddess Laxmi entry in Bali's kingdom brought wealth and prosperity. It is believed that Goddess Laxmi tied a cotton thread on Bali's wrist and prayed for his protection. Bali in return asked the Goddess what her wish was and promised her that he will fulfill it. On this, Goddess Laxmi asked for the doorman and pointed toward Lord Vishnu. On knowing the real identity of Vishnu and Lakshmi, Bali kept his promise and asked Vishnu to leave. Since then, Raksha Bandhan is celebrated in Shravana Maas signifying its real meaning, protection.
Rakshabandhan is a festival holding its legends in history books too. The story of Rani Karnavati & Emperor Humayun.
The Historical Story: Rani Karnavati & Emperor Humayun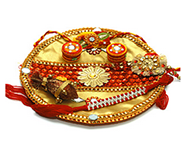 Karnavati, wife of Rana Sanga, was ruling the Mewar in the name of her elder son, Vikramjeet post the death of Rana Sanga. Bahadur Shah attacked Mewar the second time. Vikramjeet and his army were defeated earlier by Bahadur Shah. Rani tried reaching out to nobles for the protection of the empire. Karnavati wrote to Humayun for help and protection, by the time message reached Humayun it was too late. The Rajput army was defeated in Chittor, where the war taking place. In order to protect herself from Bahadur Shah, Karnavati committed Jauhar (a self-immolation act to protect oneself from indignity). The battle ended on the grounds of Chittor and Shah had to return, as Mughal army reinforcements entered the war.
Karnavati son Vikramjit restored his kingdom under the protection of Humayun. This story again signifies the meaning protection.
With various stories attached to this Rakhi or Rakshabandhan, this festival is celebrated in various parts of the country.
Raksha Bandhan: Celebration Across The Country
Raksha Bandhan is a festival celebrated in various regions. Let's have a look at the celebrations in various parts of the country before we celebrate Raksha Bandhan.
Raksha Bandhan Celebration In South
In states like Andhra Pradesh, Orissa and Tamil Nadu, the festival is known as Avani Attam or Upakrama. It is believed to be a very auspicious day and Brahmins in these states change their thread with some rituals.
This way, Rakshabandhan is celebrated in the various Southern states of our country. We all will look forward to the same celebration this Raksha Bandhan.
Raksha Bandhan Celebration In East
Rakhi is celebrated in various states of India. Eastern part of the country celebrates Rakhi in a different form.
In states like Madhya Pradesh, Bihar, Chhattisgarh and Jharkhand, people call Rakhi festival as Shravani or Kajari. The day of Rakshabandhan has a lot of significance for women and farmers. The celebration is marked by offering prayers to the God for the good harvest and for the well being of their family members.
Raksha Bandhan Celebration In West
In the states like Karnataka, Maharashtra and Goa, Raksha Bandhan is known as Nariyal Purnima or Coconut Full Moon. This marks a new beginning for the fishing community. The fishermen offer prayers to Lord Varuna (God of Water), as their livelihood depends on sea tide.
In West Bengal, it is called Jhulan Purnima. People worship Radha Krishna and sisters tie Rakhi on their brother's wrist.
Raksha Bandhan Celebration In Gujarati Community
One of the most progressive state, Gujarat celebrates Rakhi in a different form. Rakshabandhan is celebrated as Pavitropana. On this occasion, Lord Shiva is worshiped. It is believed that Lord Shiva is the demolisher of the world, hence by worshiping him on this day, all types of ills and negativity will vanish.
Raksha Bandhan Celebration In Nepal
Rakhi here is known as Janaeu Purnima. The holy thread (Rakhi) is tied around the wrist to brothers by their sisters.
Raksha Bandhan or Rakhi may be celebrated across India for various reasons and by different names, but the significance of this festival remains the same throughout and that is the bond of love, togetherness, devotion, faith and respect.
Rakhi is a festival where we witness various rituals being performed. Let's know the Rakhi rituals for Raksha Bandhan.
Raksha Bandhan Rituals
One such ritual is the decorated Thali in which a sister keeps the Rakhi along with other items.
On the day of Raksha Bandhan, sisters prepare a decorated plate which contains Rakhi (a cotton or silk thread), sweets (Laddu, Burfi or any home made sweets) and Tilak (vermilion mark on the forehead). The sister ties the holy thread or Rakhi in the form of her best wishes and prays for her brother's wellbeing. Brothers, on the other hand, promise to provide her protection throughout her life, under all circumstances. We at AstroCAMP wish all the brother and sisters the same for this Rakshabandhan.
Go ahead and make the Choice of Rakhi and Pooja Thali this Rakhi Purnima.
Rakhi is a festival which signifies the eternal bond and unity. It is the day to seek blessing and to pray to God.
Hope, this Rakhi ignites the same bond and love.
So, enjoy Raksha Bandhan with your loved ones!
AstroCAMP wishes all its readers a very Happy Raksha Bandhan or Rakhi..!