By Nitin Datta
It is said that around 10% population in the world is left handed. Being a left handed person is not less than a blessing. It is a unique phenomenon of nature. Let us attempt an Astrological interpretation for a person to be left handed.
This is a standard horoscope depicting different body parts by the twelve houses.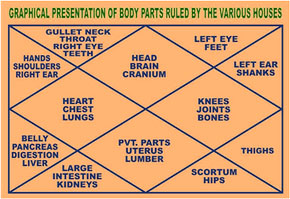 If we focus on the third house, it depicts Hands, Shoulders and Right Ear. So it is clear that for judging a person to be left handed or right handed, we need to judge his third house. Third house and the owner of third house in a horoscope would provide a clear picture for judging the handedness of a person. It has been observed that Mercury and Saturn's relationship in a chart by way of conjunction, aspect or ownership of the house leads to left handedness.
Let us take a real life case of a person who is left handed since his birth. The following horoscope provides a source of rich analysis to understand the phenomenon.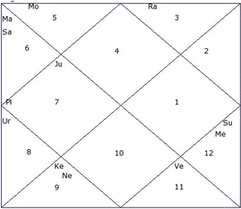 Let us focus on the third house for a moment. There are certain combinations present in the horoscope that make this person a lefty. The following are the combinations:
Saturn and Mercury are aspecting each other
Mercury owns the third house in the horoscope
Saturn is occupying third house which is owned by Mercury.
These combinations are enough to make someone left handed. These combinations would exist in a person's horoscope who is left handed. Two more known combinations that lead to left handedness are:
Mercury in Capricorn
Saturn (Retrograde) in third house
Presence of more combinations in a horoscope would ensure a person to be left handed. Anyone can attempt these combinations on some horoscopes and find out whether the person under consideration is a lefty or not.