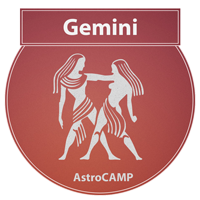 Year 2020 will be moderate for the natives of moon sign Gemini. Good results will be obtained by your children. Planet Saturn would enter in Capricorn sign in 8th house of your horoscope on January 24. At the beginning of the year, Rahu would be in the 1st house in Gemini sign and later on, it would enter in Taurus sign in 12th house on September 23. Other major transits are estimated for planet Jupiter, which enters in Capricorn sign in 8th house on March 29. On following retrograde motion, it will move back to sign Sagittarius on June 30. Again it would enter in sign Capricorn and in your 8th house after becoming direct. Planet Venus will remain combusted during the period between May 29 and June 09. Detailed predictions for Taurus in 2020 are given below:
Economic Condition for Gemini Horoscope 2020
According to vedic astrology, Rahu will remain in your first house till September 23. Such celestial combinations are favourable, however, the influence of other malefic planets may cause you troubles. This year you will experience instability and discontent as you confront financial insecurity. Your 2nd house (house of wealth) is ruled by planet Moon, which is a very fast moving planet in astrology. It may become the reason for you fluctuating financial health.
Your Ashtama Shani or Shani Dhaiya will start from January 2020. The slow-paced planet will remain in the same position throughout the year, affecting your career. It may also create trouble for your finances owing to a direct aspect of Saturn on your house of wealth (second house). You need to take decisions very carefully during the months of January-February. Take care of your business in the month of April and May because there might be some financial loss. An increase in expenditure is predicted during this period. Chances of fraud in money matters can't be denied. There also are chances of receiving benefits from a sudden inheritance this year.
Health according to Gemini Horoscope 2020
Health is undoubtedly, a factor that changes the very meaning of human life. If we are not healthy, be it mentally or physically, everything appears useless. To live a happy and active life it is crucial to have a healthy body. You won't be able to work properly or enjoy auspicious occasions and good moments of life if you are unwell.
Geminians need to take care of their father's health this year, especially in the third, fourth and fifth month of the year i.e. March, April and May. Your health will be good at the commencement of the year. However, the period between March-June will witness a decline in the health of your spouse along with you. The months of July-Aug, will also not be very pleasant as your father's health may decline. Later half of the year is comparatively better than the first half for you. Overall, this year is moderate for health matters.
Also Read: Shani : Sade Sati Upay & Legend
Career Horoscope for Gemini 2020
This year, you may expect moderate results in terms of career. Jupiter will remain in your 7th house. You may have a good legal/business partnership. Your luck may not favour you since Saturn is placed in 8th house. It is also aspecting your 10th house which may create hurdles at work front or difficulty in getting a job. However, Jupiter may protect you from any major loss being posited in 7th house. You may do well in partnerships during March-June. There would be gains you have been expecting. The lord of 10th house Jupiter will be in your 7th house bringing gains and profits for you in terms of career and business. You will receive cooperation from your seniors and authorities. However, you will not be able to take full advantage of their advice. Geminians who wish to start your own business, this year is not favourable for trying your hands at something new, especially a new business venture. You may either lose your job or money in business. It is recommended that you pay attention to all such things and avoid making choices that will impact your life in longer run.
Education Horoscope for Gemini 2020
Students of Gemini zodiac sign will get mixed results this year. This year starts at a good pace for students preparing for competitive exams. Your luck will not be much in your favour due to Saturn undergoing a transit into your 8th house which may create hurdles for you. Except for the month of January, it will remain posited in your house of sex, taboos, benefits from someone else's money, death and of course, re-birth.
You may not get desired results during the months of March, April and May. You may not be able to concentrate during this period. It is recommended to put yourself back to work as soon as you realize that you are falling out of track. It is essential to avoid slipping from the right path. At the end of the month, situation will again start improving.
When all the three planets, Mars, Saturn and Jupiter will retrograde in the month of September, you will get desired results. Students will be diverted from their studies. The year is looking average for Gemini people for education purpose. Those who are preparing for government jobs or for other competitive exams may find it difficult to clear the exams. Don't rely on luck and trust only your capabilities. Students who are trying to go abroad for higher studies may successfully get registered during the months of March to July.
Also Read: The Legend Behind Planets
Family life as per Gemini Horoscope 2020
The lord of your fourth house is Mercury also your second house is aspected by planet Saturn from 8th house. It may create hurdles for you. Your family life will be good during the initial months. However, as soon as Saturn transits into your 8th house, it may start giving you trouble at family front. Also, there may be a lack of peace due to the affliction of your fourth house with many planets. In the month of February and March, you may go on a pilgrimage or visit places of religious importance with your father or family. During the months of March-June, there is a possibility of the birth of a baby in your family. Meanwhile, you need to take care of the environment at your house, quarrel between family members is possible. Handle the situation intelligibly.
There could be someone conspiring against you. You need to be very careful during this period. In the month of September, you may receive some gains from your family. During October-November, you may get a relief from unhappiness spread across. You may enjoy quality time with your family. There is also a possibility of any Manglik Karya taking place at your home during the first few months of the year. Then similar combinations can be seen between June and October. Since Saturn aspects your 2nd house, you need to pay attention to everything happening in your family and the health of family members.
Marriage and relations as per Gemini Horoscope 2020
According to Gemini Astrology 2020, your year will start with some arguments and fights with your spouse. However, it will not last long due to the placement of Jupiter in its own sign. It will bring harmony for sure. During the year, Jupiter will remain in your 7th house except for a few months in the mid. You and your spouse may visit religious places. You both would get enough time to romance with each other. You will enjoy a good married life till March. Thereafter, you need to avoid arguments with your spouse. You need to take care of your spouse's health during March-June. It may decline during this period due to Saturn Mars conjunction in 8th house with 7th house lord Jupiter. The later part of the year, particularly the months of August-November will be good for your married life. Your feelings for your spouse will be intensified during November-December. If you are looking for a life partner, this year you may meet the love of your life. This year is also good for marriage perspective, especially in the second half of the year. Newly married couples may expect the birth of a child in between March-June or later in the months of November-December. Overall this year is good for marriage perspective.
Read Upay: Importance of Astrological Remedies
Love Affairs as per Gemini Horoscope 2020
The first half of the year 2020 may not be very favourable for love matters, whereas, the second half is little better. During the first half, Jupiter the lord of your 7th house is badly affected by malefic planets. However, it being posited in its own sign may not do much damage. If you are looking for a partner, the second half of the year (after the month of September) will support you with a positive response. If you want to propose someone, you can go ahead during this period. Post September, the time will not be favourable for lovebirds. The strong bond you were enjoying might get stretched because of your aggression and demanding attitude. Stay calm during the months of March-June for the relationship to sustain. You need to take care that your ego doesn't interrupt your relationship. Overall, this year is going to be average for you.
Remedies for people of Gemini sign for the year 2020
Remedies can help you make the situation better by reducing the influence of malefic planetary combinations in your horoscope. For Gemini people, this year it would be better if they perform the below mentioned remedy (Upay).
Clean the steps of a religious place along with its way and offer water to "Peepal" tree every Thursday and Saturday. If possible, plant a peepal tree.
Along with this, you can establish the Buddha Yantra in your place of worship to strengthen the position of Mercury, the Lord of your zodiac sign. This will turn things in your favour, and you will receive beneficial results according to the significance of the dualistic planet.