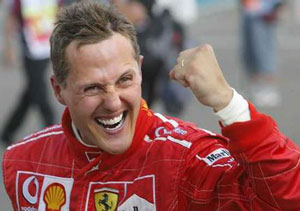 Olympics or Commonwealth, we all desire to be in their place; place of the ones, who fetch gold or silver medals. Some bring bronze too and some return with the satisfaction of participation. Whatever they bring, their country gives them immense love and respect. And, we all want to live that stardom and the lifestyle of Royals. However, we know that we can't do everything. What if God has not made us for this? Or, we are born to do something else? No! It is merely a myth my friends. There is nothing in this world that is called impossible and we humans are the most powerful creatures of this world. Everything is in our hand and we can gear our lives in our own way. Somebody has to take the initiative to reveal the secret behind the successful sportspersons. If you go through the Janm Kundli (Birth Chart) of any sportsperson, you will find a strong Mars in it, for example, Saurav Ganguly, Virat Kohli and Andrews Symonds, to name a few.
After an in-depth research, we have come to the conclusion that Astrology has got all the answers. As we know, Astrology consists of the logics made via planetary movements. For example, people influenced by planet Venus are quite attractive in physical appearance and natives with strong Moon are good in the field of arts. Similarly, good sports persons have a strong Mars. Therefore, the simple fundamental for becoming a successful sportsperson is to work on your Mars.
Mars is a planet that influences the following traits in a person:
Physical Energy
Strength
Heroism
Adventurous Spirit
Self-confidence
Courage
Strong Determination Power
The effects of Mars are not only confined to the sportspersons, in fact, soldiers and people related to the field of Army also get influenced by the above given traits. Overall, the influence of Mars can help you in many ways.
Following are the 9 ways to influence your Mars:
1. Worship Lord Kartikeya and Hanuman -
Lord Kartikeya and Hanuman are the ruling deity of planet Mars. Worshipping them will fetch you their blessings, and will also influence your Mars.
Mantra for Lord Kartikeya is:
"Om Saravanabhavaya Namah"
Mantra for Lord Hanuman is :
"Om Ham Hanumate Namah"
2. Recite Kartikeya Stotra or Hanuman Chalisa -
This will also help in enhancing the ruling deities.
3. Japa of Mars Mantra
"Om Kram Kreem Kroum Sah Bhaumaya Namah"
This mantra should be chanted 7000 times in 40 days.
4. Recite Mangal Stotra -
As per Vedic Astrology, all planets are considered as deity in themselves. So, reciting the Stotra of God Mars will directly influence the effects of this planet.
5. Donate Red Lentils (Masoor Dal) on Tuesday -
Masoor Dal is of red color and red is the color of Mars. There is a belief in Astrology that donating red lentils will help in decreasing the malefic effects of Mars and help in gaining the positive effects. Tuesday is the day considered for this donation
6. Fast on Tuesday -
Tuesday is also known as 'Mangalvar' in Hindi. And, planet Mars is known as Mangal in Hindi and 'var' means day in English. Therefore, Tuesday is the day of Mars and fasting on this day enchants God Mars and influences the good effects of planet Mars.
7. Wear 3 Mukhi Rudraksha -
3 Mukhi Rudraksha helps in protecting you from the malefic effects of planet Mars and influencing its positive effects in the wearer's life.
8. Wear Coral (Moonga) -
Moonga (Coral) is the main gemstone that affects the effects of planet Mars. Wearing Moonga can demolish the malefic effects of this planet and bless you with positivity.
9. Wear Anant Mool Jadi -
Anant Mool jadi has the same significance as the Coral gemstone. If you cannot find this gemstone or you have problem wearing it, you can go for Anant Mool Jadi.
Apart from all these factors, it is advisable to follow above mentioned tips after consulting a proficient astrologer. Mars is not only a benefic planet, it also possess some malefic effects too, like impulsiveness, anger, ego, rage and aggression, and so on. Sometimes, it influences both positive as well as negative traits of a person. So, be cautious while performing the tips to influence planet Mars.