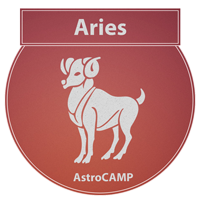 Year 2020 will be overall an average year for Aries people. Aries Horoscope 2020 suggests that favourable results will be obtained in the fields like career, finance and business. Saturn would enter in Capricorn sign in 10th house of your horoscope on January 24. At the commencement of the year, Rahu would be in the 3rd house in Gemini sign and later on, it would enter in Taurus sign in 2nd house on September 23. Planet Jupiter enters Capricorn sign in 10th house on March 29. It would transit back in Sagittarius on June 30 following retrograde motion. It will again enter moon sign Capricorn in the 10th house after becoming direct. Venus will be in a combust state from May 29 to June 09. Let's read in detail predictions for Aries sign for the year 2020.
Economic Condition for Aries Horoscope 2020
The beginning of the year 2020 will be good for you. There might be, however, some difficulty during the middle of the year. A good flow of income, despite some fluctuations during the year mid is predicted. However, this will not be a big loss. You might invest money for religious purpose. You would enjoy economic gains until the month of April. After April your income will slow down until September. In spite of that, you will be able to enjoy stable economic situation.
In the month of August, your expenditure will be high and after October, you may experience a sudden hike in expenses. After November 20, you may receive money long awaited. Make an intelligent investment in order to enjoy good economic life. Overall, this year will be good for you as far as money matters are concerned.
Health according to Aries Horoscope 2020
Health is an important factor for all. If you are not healthy, be it mentally or physically, you will not be amused even by the greatest event of your life. It is inevitable to desire for or lead a healthy lifestyle if you are concerned about health, achievements, happiness and life as a whole. To get along with the auspicious moments in family, you also need to be well.
This year, as per the prediction, you need to take care of your father's health during the initial months of the year. You also need to keep your own health first. Especially the time period between March 30 till June and the month of November-December want you to be alert. During October-November, your spouse's health may decline. With timely diagnosis and appropriate treatment, this situation won't last long. Overall, this year may not be the perfect one for health perspective.
Career Horoscope for Aries 2020
This year, Arians may expect desirable results in terms of their career. At the beginning of the year, there are chances that you may change or switch your job. Your luck will be in your favour. You will enjoy good name and fame throughout the year. During the months of March-May, you may attain a higher position. You will receive support from higher authorities as well. Saturn, being 10th lord of your horoscope will remain in Capricorn for almost the whole year. You will have good career prospects this year. You may face some issues at work front. It will, however, not affect you much. You may get promoted this year. You may face some problems from April to June due to your debilitated ninth house lord, however, it is again creating a neech bhang raj yoga for you, which is ultimately good for you. There are chances to go abroad on long distance travels for career purpose. If you have your own business, it is a good time to expand it. You will make high profit this year. You may go abroad or travel a lot for business purpose. Your business will grow from March to May. There are sudden gains expected at the end of the year as well. Also Read: Importance of Colors in Astrology
Education Horoscope for Aries 2020
According to Aries Horoscope 2020, students of Aries sign will get favourable results in the month of March-April. It's time for them to reap the fruits of their hard work. However, they need to work hard in the month of June-July. When Mars, Saturn and Jupiter will retrograde in the month of September, there are high chances of success. October-November will be excellent for you. You will acquire knowledge during your quest towards self-modification. Those who are preparing for government jobs or for other competitive exams may succeed this year. Hard work and fortune always go hand-in-hand. Neither works well alone. Students who are trying to go abroad for higher education in reputed institutions may find something suitable.
Family life as per Aries Horoscope 2020
This year, your family life may not go well. There is a possibility of unhappiness in your family or you may not be satisfied with your family life. During March-July, you may experience the missing happiness at your home as you purchase some luxurious items for your family. Since the planet Saturn is aspecting your fourth house, the house of happiness, you may feel dissatisfied. There is a possibility of Manglik Karya taking place at your home in the months November-December. You may also feel like spending money on religious deeds. There might be occasions or celebrations like a Puja at your home. In the month of September, you may purchase a new vehicle or land or luxuries items. During the year-end, you may receive some unexpected profit or inheritance.
Marriage and relations as per Aries Horoscope 2020
There will be a number of opportunities this year for you to romance with your spouse. You may go on long journeys with your spouse during the first few months of the year. You may together visit temples or go on a religious trip. There would be harmony between you and your partner, in the first half. If you are seeking a life partner, you may find your love by March end. The time is good for marriage perspective. You may get married by the end of the month of March.
In the months of April- June, you might fall for some argument with your life partner. This may take the form of a prolonged fight, so it's better to avoid any such issues. Handle the situation with care. The months from July-October, indicate that the intensity of love between you two will also be terrific. Romance will be on high. The months of September-November, however, are pointing towards the deteriorating health of your partner. Pay attention and offer your affections. Birth of a child is predicted for newly married couples between April to June or later in the month of December. The year is going to be pretty good for marital life except for a few months.
Love Affairs as per Aries Horoscope 2020
If you love someone, this year is good for love relationships. Stability in love matters may not continue but you will portray a strong bond between you and your loved one. You should try to put your ego aside in love matters. During the months of April to June, you may have an argument with your partner, however, it will not affect you much. In the month of September, you will act flirty with your partner. In the month of October, your romance will be intensified. You may spend some good moments with your loved ones. If you are seeking for new love, you may get it this year. And if you wish to propose someone, go ahead in the month of October. During this period, you may expect a positive response. You need to avoid imposing your thoughts on each other during the weak time. Overall, most of the year would be favourable for Aries people.
Also Read: Rahu - Mystery planet of Astrology
Remedies for people of Aries sign for the year 2020
The remedies you should perform throughout the year, which will help you to get rid of several problems are:
Donate Chhaya Patra on regular basis. Fill mustard oil in a clay or iron vessel and see the shadow of your face and donate it to a temple or religious place/person.
Apart from this, in order to better receive the blessings of the Lord of your zodiac sign, Mars, you can wear or carry Anant Mool (Hemidesmus).