A planner is crucial for working professionals as well as home-makers. Not only you keep a track of important meetings with a calendar but also use it for household monitoring. A calendar hanging at a convenient position works wonders when you use it as a reminder notice board and write things you wish to be reminded about. Though the modern era is digital and gadgets have captured every corner of our life as well as houses, nothing beats a calendar well maintained. So why go for a already congested calendar when you have a printable version of it? AstroCAMP presents a calendar that you can use as a planner and print as many copies of it as you want.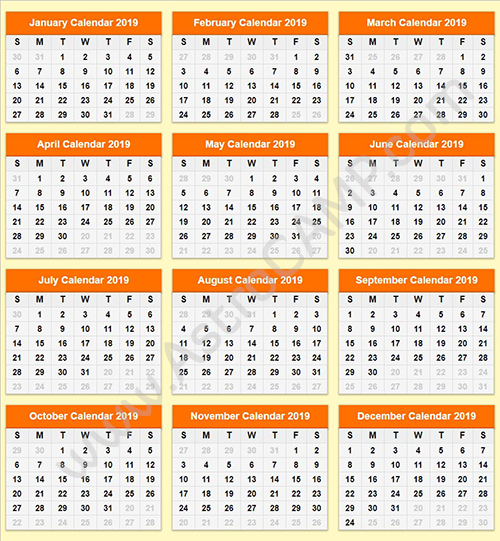 Download/Print Here: Printable Calendar 2019
A calendar is usually the first thing that you see when planning routine activities. Whether you are planning a small get together at your home, or a vacation, you will definitely take a look at the calendar. Not only that, when scheduling a business meeting, nothing is more important than a calendar. Here, we have for you, a calendar you can download and print within a minute and save yourself the time to check dates and events on internet again and again. Having a calendar at your desk saves a lot of time and energy. The hassle of checking with others for a day doesn't sound good. So, have this calendar and get going systematically.
Find dates for festivals and holidays: Calendar 2019
At AstroCAMP, we believe in delivering simplicity. Astrology doesn't complicate, rather its help relove complicated things and critical matters. Our experts have designed this calendar for the year 2019 keeping in mind your needs. A lot of research and extensive paperwork is performed before we present anything to you. We ensure credibility for what we state.
Printable Calendar 2019 is your ultimate guide to plan, strategize and manage your day-to-day activities. Download it on your phone or system, take a print or share with your friends.
What is a Calendar?
A system to record the days, dates, number of weeks and months in a year is a calendar. It is used for religious, personal as well as official purpose. Names of days and months are given and total number of days are arranged periodically in accordance with the previous years, the number of days being kept seven in a week and 365 in a year. This system is worldwide adopted. However, for religious usage, calendars of different forms are available. Gregorian calendar is the universal calendar while Panchang, Islamic calendar, Jain calendar, etc are used for identifying dates for significant events or festivals. The Hindu calendar is based on the positioning of celestial bodies. The periods of such a calendar are in harmony with the position of sun or the moon.
Find Muhurats for 2019: Muhurat 2019
Significance of a Calendar
Early sign of keeping a record of the planetary positions and time using a calendar can be linked with Rome and China, other than Vedic period of ancient India. The Jantar Mantar, that was a common entity in the rule of any great king was made only because of the significance of observing the stars, moon and planets. A couple of years back Maya calendar was quite in discussion, as it predicted the end of life on earth.
Calendars are just one single unit, compiled using various manners of tracking time. They are printed annually while there are calendars which are able to tell the date and day for a period of hundred years. The are so useful that almost every school almanac is incomplete without one. It's not just the dusk and dawn that helps us know how much time has passed. Just the idea of not having a calendar makes one feel lose the track of time. How would you celebrate a birthday or anniversary when you would not know how many days or months have passed exactly. It is just because of the calendar that we need to worry about days, just having a look at this wonderful sheet of paper sorts much of our work. What would you do to know which are the bank holidays or public holidays in 2019? Simply look up at the calendar, right!
We follow lunisolar system for calendars in India. The three types of calendars being - Solar (based on position of Sun), Lunar (based on position of Moon) and Lunisolar (which is precise as it considers both for its calculations). In Greece, Hellenic calendars are popularly known, this is supposedly the source for Roman as well as Hindu calendar. The modern calendar is derived from Gregorian calendar, named after Pope Gregory XIII. It starts from January and ends in December. Though this is the worldwide format, other calendars consider their years beginning in different months. For instance, Hindu calendar has twelve months namely-Chaitra (चैत्र, चैत), Vaishākh (वैशाख, बैसाख), Jyaishtha (ज्येष्ठ, जेठ), Āshādha (आषाढ, आषाढ़), Shrāvana (श्रावण, सावन), Bhaadra or, Bhādrapad (भाद्रपद, भादो), Āshwin (आश्विन), Kārtik (कार्तिक), Agrahayana or, Mārgashīrsha (मार्गशीर्ष, अगहन), Paush (पौष), Māgh (माघ) and Phālgun(फाल्गुन).